Find here old notices! Please note after 6 months old notices shall be permanently deleted (unless still relevant then they will remain on the Notice page)

New COVID-19 Mass Times
These are all said as a Sunday Mass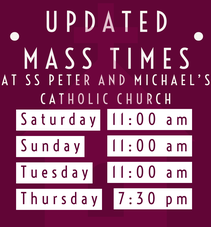 REMEMBER:
Bring a 

piece of paper with your Full Name and Phone Number on!

Wear

a 

m

ask!
For Mass dedications please click here
Please Note: Times of weekday Masses can vary depending on availability of clergy and days of obligation.
Remember if you are coming to Mass the Mass times are 

11am Tuesday, Saturday and Sunday and 7:30pm Thursday

!
Church will only be open 

15 minutes before the start 

of Mass!
If you arrive after the start of Mass due to new restrictions you will not be allowed into Church!
You will need a 

Facemask! 

You will not be allowed into Church without one.
Remember to bring a piece of paper with your full name and phone number on.
You must sit where you are asked.
We are doing everything to ensure that our Church is a safe place for our Community to come and pray. We ask that you support us in this by following the up-to-date Government guidelines and our procedures that are outlined to you upon entry to the church and on our website. Thank you.
Remember if you are coming to Mass the Mass times are 

11am Tuesday, Saturday and Sunday and 7:30pm Thursday

!
Church will only be open 

15 minutes before the start 

of Mass!
If you arrive after the start of Mass due to new restrictions you will not be allowed into Church!
You will need a 

Facemask! 

You will not be allowed into Church without one.
Remember to bring a piece of paper with your full name and phone number on.
You must 

sit where you are asked.
---
Tickets for mass
We have now been issuing tickets for mass on a Wednesday evening since reopening for mass six weeks ago.  Although there has been a good response we still have spare spaces at each mass. The maximum number at each mass is 40 and so far only one mass in the six weeks has reached this maximum. 
After discussion, it has been decided that from Saturday 12th September onwards, you will not need to obtain a ticket in order to attend mass.  You will just need to turn up for mass 15 minutes before the start and remain socially distanced whilst queuing.
·         In order to meet the requirements of track and trace we are asking you to provide your name and contact number on a piece of paper which will be collected by the steward.  This will enable us to get people into mass quickly and on time. 
·          The door to the church will be locked at the start of mass, so anyone arriving late will not be admitted.  The mass times will remain the same.
·         Unfortunately once the maximum number for each mass has been reached we will have to turn you away.
We hope that this will enable people to feel more confident about coming to mass and take away the need for a separate journey to collect a ticket.  Please be assured that we are continuing to monitor the situation and will respond if the situation changes.  We look forward to seeing you in the near future.
Fr. Gildea, Deacon Jim and SPAM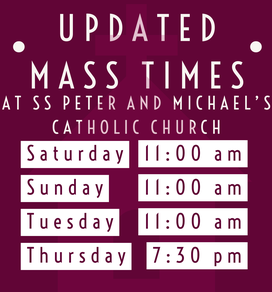 Re-opening of St. Peter's for Mass
The times of mass will be changing and as the number able to attend is limited, you will need a ticket to attend (including children).  
Tickets for the following Saturday to Thursday can be picked up each week on a Wednesday evening between 6.30 – 7.30 pm from the pavilion in the church garden.  When you pick up tickets you will be required to provide a contact number for each ticket issued.
·      Volunteer stewards will show you to your seat so we can ensure social distancing.
It is appreciated that these changes may be difficult but we have to protect our priest, parishioners and the wider community. 
---

---
Provisional Plans for the re-opening of St. Peters  Update 11th July 2020
We are planning to re-open church for the celebration of Mass beginning Saturday 25th July subject to us getting the necessary approval from the Archdiocese.  Further details about the re-opening will be on the website next week but please pass the information on to others who may not be able to access the website.
There will be four Masses each week:-
·        Saturday 11.00 am
·        Sunday 11.00 am
·        Tuesday 11.00 am
·        Thursday 7.30 pm
and each Mass will be celebrated as the Sunday Mass. 
·                 Everyone attending will be required to wear a face mask or face covering and follow the hand sanitising procedures.  If you turn up to church without a mask you will not be allowed to enter.  The four stewards on duty at each Mass will be wearing additional protection.
•             Church will open for Mass 15 minutes before the start of Mass – entrance to church will be from the Weir Lane entrance only. When queuing please remember the social distancing requirements.  There will be no votive lights available.  A basket for the collection plate will be placed near the entrance.
•                 There will be changes to the format of the Mass, but the main one is that communion will be distributed at the very end of Mass.  Once you have received communion you will need to leave the church through the garden exit.  There will be no returning to seats, so please take all of your belongings with you.
•             The seats in the church have been marked out and you will be directed to your seat by a steward. There is a maximum number of 40 people + 4 stewards able to attend each Mass and a ticket will be necessary in order to attend (including children)
Further details about obtaining a ticket will be published once we have the permission to open.
These are very difficult times for us all and the restrictions and procedures are set out by the Bishops Conference in line with government policy.  The priority is the safety of each individual, other people and the wider community.  We hope to have further details by next weekend.
Fr. Gildea, Deacon Jim and SPAM  11th July 2020
---
CAUTIOUS RE-OPENING OF CHURCH FOR PUBLIC WORSHIP
We have received confirmation this week that we can begin planning for the cautious resumption of Mass in church.  Any plans made will have to meet the strict guidelines set out by the government today and the Bishops and will require the Archdiocese to agree the plans made.  This will take some time to organise so it is unlikely that any return to Mass in church will take place before mid/late July.  Permission to hold such services will be reversed should rates of infection rise.  This is not a return to business as usual
The numbers attending any Mass will be strictly limited – the exact number has to be defined – and will require social distancing to be in place, hand sanitising to be used and the wearing of face masks or face coverings will be necessary.  As we have a small church, we will have to use a ticketing process in order to ensure that all parishioners have an opportunity to attend Mass in a safe and orderly environment. 
Our initial planning is for four Masses to be held over the week  (2 on the weekend and 2 in the week) but the maximum number for each Mass must be strictly observed – hence the ticketing process.  Parishioners will need to be open to the possibility that we may not be able to attend Mass at the weekend but attend Mass during the week. In order to help in this, the obligation to attend Mass on a Sunday is still suspended.
The traditional manner for Mass is also changing – there will be limited readings and no homily, sign of peace or singing.  Fr. Gildea will receive Holy Communion at the usual point in the Mass.  Communion for the rest of the congregation will be distributed after the final dismissal of the Mass and reception of Holy Communion will be on the hand only. 
Communicants will be directed by volunteers to approach the altar and will leave the church directly after receiving without returning to benches.  Therefore any bags must be taken up to the altar when receiving communion.  The porch area will be kept clear at all times.
These are very different times, and we have to make wise decisions to protect our priest, ourselves and the wider community.   The vulnerable should carefully consider the wisdom of returning to Mass too soon.  They are not obliged to do so.
In order for the church to open safely, we will require volunteers to help with stewarding at each Mass and cleaning the benches etc, after Mass.  If you are able to offer your services, please let Fr. Gildea know, but please be aware that unless we get sufficient volunteers we will not be able to open for public worship.
As was stated at the start of this letter, this will not happen overnight and will require the permission of the Archdiocese, but hopefully we will soon be able to attend Mass once again.  The live streaming of Masses will continue in many churches even when they open again for Mass, so that people can make choices about whether they wish to attend in person or not.
Further information about the re-opening will be available once the plans proposed have been approved.  Check our church website for details when available – https://stpeterschurchwoolston.jimdo.com/
Fr. Gildea, Deacon Jim and SPAM  4th July 2020 
---
A Message from the Metropolitan Archbishops
of the Catholic Church in England
regarding the resumption of collective worship in England:
Dear Brothers and sisters in Christ,
Grace to you and peace from God our Father and the Lord Jesus Christ.
On Tuesday we heard the announcement that, from the 4 July this year, places of worship will be able to reopen for prayer and services. We welcome this news with great joy. Since the lockdown began, members of all faiths have faced restrictions on how they have been able to celebrate important religious festivals. Our own experience of Easter was unlike any other we have known. Now, in our churches, and with our people, we can look forward again to celebrating the central mysteries of our faith in the Holy Eucharist.
The recent reopening of our churches for individual private prayer was an important milestone on our journey towards resuming communal worship. Our churches that have opened have put in place all the measures needed to ensure the risks of virus transmission are minimised. This includes effective hand sanitisation, social distancing, and cleaning. We remain committed to making sure these systems of hygiene and infection control meet Government and public health standards.
We want to thank everyone within the Catholic community for sustaining the life of faith in such creative ways, not least in the family home. We thank our priests for celebrating Mass faithfully for their people, and for the innovative ways in which they have enabled participation through live-streaming and other means. We are grateful for the pastoral care shown by our clergy to those for whom this time of lockdown has been especially difficult, and, in particular, towards those who have been bereaved. We recognise too the chaplaincy services that have played a vital role in supporting those most in need. Gaining from the experience of all that we have been through, and bringing those lessons into the future, we must now look forward.
With the easing of restrictions on worship with congregations, we tread carefully along the path that lies ahead. Our lives have been changed by the experience of the pandemic and it is clear that we cannot simply return to how things were before lockdown. We remain centred on the Lord Jesus and His command at the Last Supper to "do this in memory of me." We must now rebuild what it means to be Eucharistic communities, holding fast to all that we hold dear, while at the same time exploring creative ways to meet changed circumstances.
It is important to reaffirm that, at present, the obligation to attend Sunday Mass remains suspended. A significant number of churches may remain closed as they are unable to meet the requirements for opening for individual prayer. Fulfilling these requirements is a precondition for any church opening after the 4th July for the celebration of Mass with a congregation.
Please be aware that there will be a limit on the number of people who can attend Mass in our churches. This will determined locally in accordance with social distancing requirements. We therefore need to reflect carefully on how and when we might be able to attend Mass. We cannot return immediately to our customary practices. This next step is not, in any sense, a moment when we are going 'back to normal'.
We ask every Catholic to think carefully about how and when they will return to Mass. Our priests may need to consider whether it is possible to celebrate additional Masses at the weekends. Given there is no Sunday obligation, we ask you to consider the possibility of attending Mass on a weekday. This will ease the pressure of numbers for Sunday celebrations and allow a gradual return to the Eucharist for more people.
Moving forward, there will still be many people who cannot attend Mass in person. We therefore ask parishes, wherever possible, to continue live-streaming Sunday Mass, both for those who remain shielding and vulnerable, and also for those unable to leave home because of advanced age or illness.
When we return to Mass there will some differences in how the celebration takes place. For the time being, there will be no congregational singing and Mass will be shorter than usual. None of this detracts from the centrality of our encounter with the Risen Christ in the Eucharist. We ask everyone to respect and follow the guidance that will be issued and the instructions in each church.
"As I have loved you," said the Lord Jesus, "so you must love each other." (Jn 13:34) The lockdown has brought forth remarkable acts of charity, of loving kindness, from Catholics across our communities as they have cared for the needy and vulnerable.
We have seen love in action through charitable works, and through the service of many front-line keyworkers who are members of our Church. Now we can begin to return to the source of that charity, Christ himself, present for us sacramentally, body, blood, soul and divinity, in Holy Communion. As we prepare to gather again to worship, let us, respectful of each other, come together in thanksgiving to God for the immense gift of the Holy Eucharist.
✠ Vincent Cardinal Nichols
Archbishop of Westminster
✠ Malcolm McMahon OP
Archbishop of Liverpool
✠ Bernard Longley
Archbishop of Birmingham
✠ John Wilson
Archbishop of Southwark                              26th June 2020
-------------------------------------------------------------------------------------------------
---
 Reopening of Churches and Places of Worship
Statement from Cardinal Nichols
I am grateful to the Prime Minister for his decision that our churches may now open again for individual prayer. I thank the Secretary of State for Communities, Mr Robert Jenrick and the Minister of State, Lord Stephen Greenhalgh, for their leadership of the Task Force which helped bring about this important step.
This is a first, measured step in restoring the more normal practice of our faith and will be welcomed by so many, who have waited with great patience since 23 March when our churches were closed, by Government decision, as part of the fight against this pandemic.
I thank everyone for that patience. It is important that every care is taken to ensure that the Guidance given for this limited opening is fully observed, not least by those entering our churches. Our preparation is taking place with thoroughness. Visiting a church for individual prayer, benefitting from the sacredness of that space, can be done safely and confidently.
Not every Catholic Church will be open on 15 June. Local decisions and provision have to lead this process. But it is a great blessing, for individuals and for the benefit of all in society, that church doors will again be open to all who long to pray there for the peace and grace we need today.
This first step enables us to learn and prepare for those that will take us to a fuller use of our churches, for the celebration of Mass and other sacraments. We await that time with deep longing but patient understanding that the protection of the health of our society, especially of the most vulnerable, is a proper cause for caution and care.
Cardinal Vincent Nichols
President, Catholic Bishops' Conference of England and Wales
Full version of the press release:
https://www.gov.uk/government/news/places-of-worship-to-re-open-for-individual-prayer
---
A message from Churches Together Merseyside May 19th 2020
In response to the corona virus pandemic this global prayer campaign has launched new elements, including prayer resources during COVID-19, such as  a Prayer Journal  

with Bible readings, reflections and care actions. a

 

 

 Digital Family Prayer Adventure Map 

 

 

to aid children and young people explore prayer in a fun way, etc.
  
The campaign will also relaunch its award-winning app which will enable anyone with a smartphone to access the content and journey through the 11 days of prayer. The app has been translated into eight languages and last year was downloaded in almost 100 countries worldwide.
Here you will find a link to the CTE 'Thy Kingdom Come' web page: Thy Kingdom Come 2020 
When you follow the above link, you will also see a tab on the CTE webpage entitled Coronavirus where a number of different kinds of resources and guidelines can be found.
---
COVID-19 UPDATE
The Bishops' Conference has agreed that all public acts of worship in churches will cease as of the evening of Friday 20th March. This includes all public Masses. This is not a decision which is taken lightly, but it is one which they believe is in the best interests of all the faithful, in light of government guidance. The obligation to attend Sunday Mass and Holy Days is removed for as long as this crisis continues.
 Due to this masses and daily prayers are being streamed online by various churches and priests.
Find out more here: http://www.liverpoolcatholic.org.uk/ . Where you can find links for live streaming of masses, prayers for spiritual communion, readings and video links for masses which have been said.
·         St. Stephens in Orford appears to have links on their website  https://www.st-stephens warrington.co.uk   They seem to be recording the private masses said by Fr. John McLoughlin and posting them on the website.  There are details on the website about the masses for Holy Week.
·         The Shrine at Walsingham also is live streaming mass https://www.walsingham.org.uk/live-stream/ There are full details of their schedule on their website
·         The Redemptorist Fathers have a website https://www.rpbooks.co.uk/ with information about books, readings and prayers.
  Hope this helps.