---
FIRST SUNDAY OF ADVENT
Advent begins this week end. It is a time when we prepare ourselves for the coming of Jesus. This year, because of covid 19, we will have to think hard about who we will invite to be in our Christmas 'bubble'. This may make us re-examine our relationships with family and friends; will we need to make up with or forgive anyone?
This Advent there is one hope that I have, and that is that you will all invite into your 'bubble' the one whose birthday it is:- Jesus. We normally do this at the Mass we attend on Christmas eve or Christmas day. unfortunately most of you wont be able to come to Mass this Christmas because the covid rules only allow for restricted numbers: for St Peters that is 40 people per Mass. However, there has been at least one good outcome from covid - people have discovered anew, personal prayer and praying together as a family even if it is only 'grace before meals' or night prayer.
May I plead with you to find more time to pray during Advent.
I also recommend that you say a decade of the Rosary together on the 3rd and 4th Sunday of Advent and, then, on Christmas Eve or Christmas morning gather together before the crib and say the third decade of the Joyful mysteries 'the birth of Christ.'
So:-Sunday 14th Dec Gaudete [rejoice] Sunday when we light the 3rd Advent Candle [the purple one]gather together and say one decade of the rosary [one our Father, ten Hail Marys & one Glory be to the Father] while you think of the chat that Mary had with Angel Gabriel about her becoming a Mother at the age of 14 and her baby would be God.
Sunday 21st Dec 4th Sunday of Advent gather together again around a candle and say another 'decade,' this time thinking of Mary making the arduous journey, about 80 miles, to go and see her cousin Elizabeth who was also pregnant. Did Joseph who she was engaged to go with her; or her parents or did she go alone?
Christmas, gather around the crib and say a decade of the rosary thinking of the birth of Jesus and all it means to you.
N.B.If you don't have a crib there will at least be one of your Christmas cards that will portray a crib.
Have a joyous Advent, safe shopping and peaceful preparations. God bless Fr. G
FEAST OF CHRIST THE KING
Hi Everyone,
Hope you all keeping well and fighting fit for the last week or so of Lockdown. Time to count down the days now....hopefully we will come out of this level of safety precautions and move on towards a semblance of normality . Maybe even be able to share Christmas with our families. Wouldn't that be lovely !
This week we celebrate The Feast of Christ The King which brings to a close our liturgical year.
I started to play cards with all the family, around the dining table at home. I have never lost my love of cards.
The 52 Sundays of the year, like a full deck of playing cards, have been shuffled and dealt out - each with its own message. Today we hold the last of the 52 - The King of Hearts. And the gospel tells of his coming in glory at the end of time. The Lord will be escorted by his angels to bless those who have ministered to the hurting people of the world, for, by doing so, they have served their king.
Jesus is not the King of Clubs. He does not rule with ruthless force and power. The club is the extension of the fist, rather than the heart.
Jesus is not the King of Spades. For the Lord throws no dirt on others, nor does he need to cover his actions or bury his past. His reign is open for all to see and imitate.
Unlike some earthly rulers, Jesus is not the King of Diamonds desirous of wealth, glory and glitter. His glory comes from another world. " I am a King" he said to Pilate, "but my kingdom is not of this world"
As the four suits, like the four seasons, reflect the cycle of the year, it is encouraging to know that Jesus has chosen to be the " King of Hearts ". Jesus is as central to our lives as the heart is to the body.
"Learn of me," the King said "For I am meek and humble of heart"
If our hearts have been broken for whatever reason, know that His was broken for us. He is the wounded healer. Jesus the shepherd of lost sheep, saviour of sinners, teacher, lover and king of the world.
Today's gospel spells out the do's and don'ts of the Christian life. It explains how our entire salvation hinges on the manner in which we care for the less fortunate. It is another teaching of the necessity of helping others.
"Come, inherit the kingdom, for....I was hungry and thirsty...and you gave me something to eat and drink"
I was a stranger - and you welcomed me.
I was poor, without enough to clothe my family- and you provided something.
I was sick - and you had time for me.
I was treated unjustly, or in prison - and you tried to do something for me.
This is Christ's message for us and it is possible for all of us to imitate this way of life. And, it carries an everlasting promise. We have it on the word of the The King of Hearts himself !!!
Have a happy week. Be good and kind to others.....
Bye for now.
Fr G.
Sunday 15th November
Hello Everybody ! ( That makes me sound like Ewan the BBC Weather reporter ! )
Hope you are all ok and bearing up with our second Lockdown. Are you like me,less enthusiastic and more resigned and bored than the last one ? I think most of us, just want more than anything, to simply... " get back to normal. " Hopefully, this one will only be until 2nd December. I pray people will abide by the rules and ensure this will happen. Wonderful news we may have found a vaccine ready to be use early next year. Thank God for our talented Scientists !!!
With this new Lockdown our Churches are once again shut and closed for Services.There are no meetings or socialising and if this state of affairs continues does this mean there will be no " Church ?" So... the question arises " What is the Church ?
The early Christians never defined "The Church". They understood the words of Jesus that 'the kingdom heaven is here" as referring to him, Jesus, as encountered in his actions. These actions are continually going on,even now, through The Holy Spirit.-..... sent by God The Father, when Christ went back to him. Hence you might say : The Church is 'life' and the 'source of life'.
It is the interaction of love and peace which God and man are involved in. It is Christ, who became man, rose and lives. It is his spirit (The Holy Spirit) who dwells in the heart of people and breaks forth into loving, caring and peaceful activity The Church is, therefore, the coming of the Eternal into time and space; the appearing and manifestation of God's life and love.
Covid 19 is something evil that we cannot see,hear or feel. It has traveled throughout the world wreaking havoc and devastation. We only know it is there when we see or feel its effects. The Holy Spirit works much in the same way but he brings the opposite to evil. He brings love, peace, and caring. 'Where there is love there is God.. there is CHURCH. .
The Church lives on... in us and through us. Our lives are an example to others of what God intended for the human race.
A big responsibility.
Pope John Paul 2 when he visited our Archdiocese in 1982, told the young people he met " You are The Living Church "
I never forgot that message it was so powerful.
My prayers this week are that we here in St Peter's continue to be in the community " The living Church ".
May God bless you and all your family, your friends and neighbours !
Remember to smile at someone this week !
Here is a joke that Fr David sent me.. it made me laugh and smile... hopefully it will make you smile too !!!
Fr G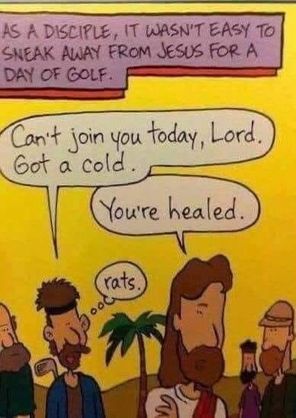 ---
SUNDAY 8TH NOVEMBER
This Sunday is Remembrance Sunday and we had hoped to remember all those who had died in wars and pray for them at our Masses this week. Unfortunately, with the latest Lockdown in force that is not possible. Non- the- less I suggest that you use the video on our website, to gather the family together to pray for them all. Thanks to John and Carole Glynn for producing this video.
During November we also pray for all those who have died; we remember especially our own relations and friends. We often take the time to write out their names and put the list in a book that is displayed in church ( see photo). Masses are said for them throughout November. I will continue to say Mass privately for your intentions until Lockdown is ended.
Some Good News....This past week we finally got to celebrate our First Holy Communions. The Masses were truly beautiful and full credit to the children and their families. I especially want to offer a BIG THANK YOU to the Teaching staff and the Catechists for the wonderful preparation work they did many moons ago in helping the children understand this beautiful Sacrament. Their faith sharing, teaching and support was wonderful and inspiring for me when celebrating the Mass. The children looked lovely, were very reverent and, as always, sang beautifully. On Friday they were able to have a small " Breakfast meal together " . . Not quite the normal celebrations but in the circumstances it was great ! Chocolate all over their mouths !!!
Have a good week everyone. Please keep to the regulations and therefore stay safe.. Look after each other - check your neighbours and if possible keep in touch by phone / WhatsApp / handwaves in the street with as many people as possible.
Pray for each other and remember to smile !!!
Laughter and smiling are the greatest up lifters ever !!
God Bless you and your families.
Fr G.
---
Sunday 1st November is the feast of All Saints and Monday 2nd November is the feast of The Holy Souls. This year we are celebrating the two feasts together.
Our Mass today is being said for Don Cullen.
 Sunday - Marie Hulme ( successful operation ) .  Tuesday – Pious List
We all become Holy Souls as soon as we die. Then as we appear before the beauty and goodness of The Almighty God we will instinctively fall back , because the sins that we were involved in during our life on earth, will have sullied our own beauty as a person, and we will feel that we cannot share in the pure goodness of God and all he will have to offer us after our life on earth.
 As we stand there before our God, we know deep within us, that we want to be purified and be  rid of our earthly sins and this will  cause us intense inner suffering. It is not God who forces this feeling on us but our own burning desire to share the good life of God. We want to be good and pure. It is only then, when we are purified by God, that we will become saints.
I have just heard that the Prime Minister has closed all the churches. There seems to be an anti- religious bias in our parliament. You can go into shops for food for the body, you can go into school for food for the mind but you cannot go into church for food for the spirit.. MPs pay lip service to helping with mental health but close the very places that sustain it.
I was going to get in touch with the Cardinal and Archbishop but while writing this Blog I have just heard that all the bishops have protested against the closure of churches. Lets hope that Johnson has enough sense to listen and understand. We await his response.
Meanwhile, I will continue to say Mass in private for the intentions already requested.
Stay Safe yours in Christ, Fr G
---
---
---
Weekend 24th / 25th October 2020
Good morning Everyone, I hope you are all fit and well.
 In the Gospel today Jesus gives us two commandments : To Love God  totally and to Love Your Neighbour as yourself. So , remember, unless we love ourselves we cannot love others. Not self love as in being selfish or egoistic. Loving ourselves is about appreciating our talents, knowing we are unique, respecting all those talents and the goodness we  have within us. God loves us because he created us, so we love him in return.  He, also created every one else so we are his family; that is why we love our neighbour:- we are all 'the Family of Man' as one song of the 60's put it.
We must understand that we cannot fly without wings, grow plants without roots and we cannot offer warmth to others if our fireplace is cold and empty. Where there is no love, put love and then,  only then, will you find love.
So, how do we show our love of God ?  Simply by living The Gospel !
When something in our body is painful be it a finger, heart, or hip, our  whole body is affected, and we don't function properly…. so it is with the Mystical Body of Christ".
 We love God, then in turn ,we will love each other.
 As the song goes "You can't have one without the other "
---
 Weekend 8th/ 9th October 2020
Hello Everyone,
Hope you all well. Unfortunately, this week I have been in hospital for a couple of nights. I had a slight hiccup. I had a small bleed on my brain but thankfully it has all been sorted and my medication changed to help thicken my blood.
The  good news is that I heard  that  the scan showed that, despite what people think, I do have a brain….!
In the second reading today, St Paul assures us that "There is nothing I cannot master with the help of the One who gives me strength " 
 He believes that God is there for us in  the good and bad times of our lives. In other words we should always feel both his love and support throughout the whole of our lives.
 I know I certainly felt him with me this week in hospital just as much as I felt him  during the two weeks   I spent  in the sunshine in Spain with my family…. without a care in the world !
So this week remember……no matter what life hits you with  :
"Trust in The Lord – he is with you in both the good times and the bad "
 AND    
" Live each day to the full !"
I don't have any photographs of me in hospital but here are a couple from Spain – please don't be envious!     
---
2nd October 2020
Hello Everyone !
Greetings from the Presbytery !
I hope you are all well. It seems ages since I last saw you all or wrote here on my "Blog".
The reason being, that I have been away during September. I flew to Gibraltar and stayed with my two nieces and nephew who live in a forest in Andalucia in Southern Spain... nowhere near Madrid....Thank God !
It is a beautiful area - a village seeped in the past. People still ride their horses as a means of transport .
I stayed in the family bubble, relaxing in their swimming pool, reading, walking in the forest (with my mask on, as it is compulsory to wear one outdoors in Spain ) and of course having the odd glass or two of vino - very civilised !
It was good to spend time with my family and enjoy the sunshine.
Unfortunately, as a result of being in Spain I have had to self isolate on return. Luckily for St Peter's, I have good Priest friends who have covered for me. A big Thank You to Fr Reynolds and Fr Griffin for helping us out.
Sadly whilst I was away, four lovely members of our Parish died.... Carol Banks, her sister Yvonne Wareing,Joseph Jones and Angela Bradley.
I was really sorry not to be there to support their families. May they rest in peace.
It is good so many of you have now returned to weekly Mass. A testing time for our faith and we all need to continue to be strong, patient, and keep praying. Prayer is so powerful. We must also continue to support each other in both our prayers and practical support. Please continue to be aware of your neighbours' needs, and, as always, "Thank You" for your generosity to our local food banks. May I also "Thank You" for your continued support of the parish finances through your Offertory Collection and direct debits etc.
Meanwhile, I will be busy catching up on admin, hopefully speaking on the phone to our sick parishioners during the week, and of course, continue my work in the garden. Benches to paint, roses to prune, weeds to pull up and of course tend to my tomatoes...now resting in a drawer upstairs with bananas and a few ripe tomatoes...hoping to finally ripen so we can make basil and tomato sauce....hope you are all suitably impressed !!!
May God Bless each one of you and your families and may he keep them all safe.
God Bless.
Fr G.
MEMORIAL GARDEN MESSAGE
I wish to extend a big thankyou to the Hawley brothers for their work this week in the Memorial garden. They weeded all the rose beds and then cleaned and retreated all the pavement area. A MAMMOTH TASK. THANK YOU FRANK AND TONY .
Fr Gildea.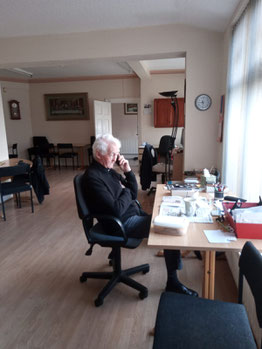 Fr Gildea is keeping in touch with parishioners, especially checking on those who are sick.
Getting ready for the first parish party.
The tables and many of the chairs have been painted.
The hanging baskets, grown from seed , in the garden by beginner
are looking good.
Fr Gildea has been mending the garden chair in memory of Deacon Tom Washington.
He has given the benches in the Memorial Garden a smart coat of paint
Fr Gildea is confident that we will get through this unprecedented world event, that we are all going through, so he is keeping the garden tidy. 
Fr Gildea is painting the fences and  the garden benches ready for our first parish barbeque and tea and cakes on the lawn in the summer. 
---
Hello Everyone again !
Hope you all doing ok and not fallen out yet with each other at home !
For those living on your own....I especially think of you and remember you in my prayers.
It is lovely to have the warm weather and sunshine enabling us to go out into our gardens... the sun energises me, makes me want to do things.....
The fences are coming along nicely and will be ready for our tea/cakes on the lawn after Mass and of course our first Parish BBQ celebrating the end of these past weeks and awful period. It will end and hopefullysociety will be better for it. Have faith!
 Don't forget to go out at 8pm on Thursday night to show our love and appreciation  of all those people  who are  looking  after our sick and elderly   people!    Heroes   one  and  all.  May  God  bless   them   for their dedication and bravery.  I will change the Mass of The Last Supper to 7pm so afterwards I will be able to join in with everybody  outside,
clapping with appreciation .
---
4th April 2020
Hello Everyone,
Greetings from St Peter's!
Hope you are all keeping safe and well.
It is a difficult time for us all … many of us away from family and friends and for some -  work !
Let's hope and pray that it will all soon be over and not too many lives lost.
I have been able to say Mass each day and have remembered you all during them. In particular I have thanked God for our wonderful, dedicated and brave NHS workers and ALL who work in our hospitals in so many capacities. It was wonderful to hear so many people clapping on Thursday night in appreciation of their work to end this terrible virus. May God reward them AND their families who share their worry and fear.
It is very quiet around the house but on occasions I have been able to shout "hello" to people over the fence. I have equally met many of you on my daily walks…..so important to keep up our physical health!  For those of you who can't get out and about, I recommend stretching of leg/arm muscles with walking around the house / garden if possible. Thank's to so many of you who have also rung me up or dropped a note in to check I am ok and, "Do I need any shopping ?"…. very kind of you all.
Father Gildea